Brazil
moving home to or from brazil
Telephone: 0808 1000 988
Overseas Telephone: +44 1242 536796
Email: international@gbliners.com
Wherever in Brazil you are planning to move to, whether it's Rio de Janeiro, Sao Paulo or Salvador, GB Liners are here to help.
We are able to help with single items, groupage consignments, full container loads, cars and pets. Naturally a full door to door service is available.
LIVING IN BRAZIL
Moving and living overseas can be a daunting proposition but with our experienced International team here to assist, we are on hand to provide all the help and assistance you need for moving to Brazil. GB Liners have been moving customers overseas for over 60 years and in that time have accrued a wealth of knowledge and contacts that can aid and advise you on every aspect of your relocation to Brazil. Guidance for living in Brazil can be obtained from the link below however if you have any queries about Brazilian life, please do not hesitate to contact our international team who will share their vast knowledge or put you in touch with one of our many international partners who can!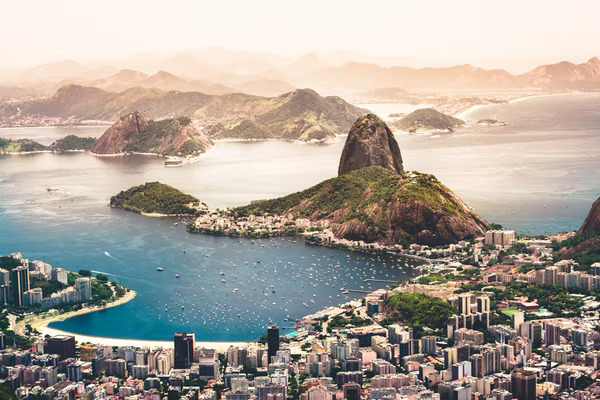 CUSTOMS FORMALITIES FOR MOVING TO BRAZIL
USA CUSTOMS
Documents Required (submitted/signed by customer)
Copy of residential/working Visa. (Visa must be valid for more than 180 days and be stamped on the passport.)
Copy of passport.
Notarized copy of the Brazilian taxpayer card (CPF) or internet extract showing CPF number.
Notarized copy of the proof of residence in Brazil.
Notarized power of attorney authorizing the Brazilian agent to represent the customer in the clearance. (Agent will furnish this form after arrival of the customer in Brazil).
Notarized copy of the Brazilian identification card or protocol (RNM).
Copy of Registration Certificate.
Copy of the airplane ticket, showing the entry in Brazil and boarding pass. In case the boarding pass does not show the year of your arrival into the country, please also keep the original luggage ticket for presentation to
customs.
Brazilian customs forms filled with notarized signature (varies according to air/port destination – will be by local agent).
Notarized detailed inventory list in Days Sales of Inventory (DSI) form, in Portuguese language and valued in US dollars (agent will furnish this form after arrival of the customer in Brazil). All electrical, electronic, mechanic or optical appliances or devices must detail type/mark, brand, model and serial number.
Goods must arrive to Brazil within 180 days from the day Brazilian Federal Police stamps the passport.
Permanent visa must be obtained before arrival in Brazil.
Customers with visa must register at the Federal Police Department in Brazil for the customs clearance of the move.





Documents Required (to be completed/arranged by GB Liners)
Inventory of the goods in English. (Do not use the terms "Miscellaneous" or "Contents unknown".)
Ocean Bill of Lading/Air Waybill (AWB).
additional information on moving to brazil
Duty free entry of goods and new items for personal use if these are:
New items:
Only reasonable quantities of similar items per category are allowed and must be in accordance with the client's profile and profession.
The purchase invoice copy or credit card statement must be presented to Customs authorities.
The above does not apply to consumer items such as foodstuff, diapers, cosmetics, candles, paint, etc., which are not considered by Brazilian customs as household goods and cannot be included in the move.
For further details on inherited goods, diplomatic status, motor vehicles, pets and other exceptional items, please do not hesitate to e-mail us at international@gbliners.com.